Moving from Florida to California
Moving from Florida to California is a long way to go. This is why you need to ensure you are prepared for this trip. Giving your best to ensure a comfortable and safe moving process is a good investment. If you are new to this or just need some tips, Best Cross Country Movers are here to help. Let us walk you through your next relocation and help you adjust.
Hire a moving company
Moving long distances is not quite the same as moving into an adjacent area. Yes, the preparation and packing are mostly the same but traveling takes some time. In this case, you won't be able to just ring your friends to drop some stuff at your new place. Best cross country movers can help you find the best movers for your relocation. They will handle most of the heavy lifting so you do not have to. In the meantime, you can devote yourself to other things and important matters.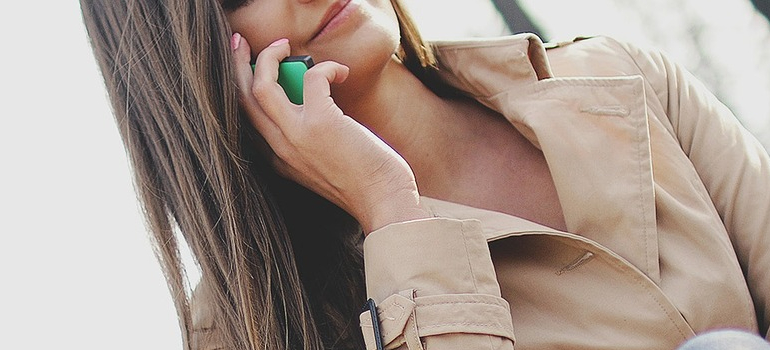 The choice of a moving company is crucial to every successful moving process. Some of us have moved quite often and we know it is a lot to take in. Your life cannot hold, and your job, hobbies, and kids are still in need of your attention. Moving companies will save you a lot of time and trouble. Hiring good movers can take some time so you make sure to start on time. Ask around about recommendations. Look up online for reviews and comments of other people that went through a similar situation. This way you can make sure that you made a good choice and that your relocation will be seamless.
How to choose a reliable and trustworthy moving company?
The easiest way to ensure that you have a reliable, trustworthy, moving company on your side is to allow us to find one for you. However, if you want to perform the search on your own, here's what you will need to do:
Start by making a list of all the companies that operate within the area of your choosing. In this case, they will need to cover both Florida and California. You will always want area experts on your side, as they will be able to do the best residential moving job. After you have finished forming the list, it is time to trim it a bit. You will want to visit each mover's webpage and see if you like what they are offering. Feel free to cross off the movers that you don't like, and "circle" the ones that you do. The next step is to verify that the movers are trustworthy.
Every moving company speaks highly of itself. If you go by their words alone, all of them are fully worthy of your trust. However, that might not always be the case. At this point, you will want to read as many of their customer reviews as possible, as well as check their presence with the BBB and FMCSA. When reading the reviews, try to have multiple sources. Don't simply read everything on one site and call it a day. The more diverse your sources are, the better.
At last, once you trim the list to a manageable number, and you're fully satisfied that the movers on it are trustworthy, it is time to contact each of them. You will want to get a free estimate, as well as talk with your movers about your relocation.
An easier path
As you can see, the process can be quite exhausting. If you want to get to skip to the last step and get a list of fully verified and reliable movers, which are experts in the areas of your choice, all you need to do is get in touch with us.
Prepare your family and create a plan
Relocation is not just random packing and loads of hard work. It is also lots of talking and adjusting to the change that is coming. Moving from Florida to California is exciting, but some family members may take this hard. Kids perceive this as a loss and you must talk this out. Point out all the good things about relocation to California and how much fun it will be. Ensure that you can still visit and see old friends and family members.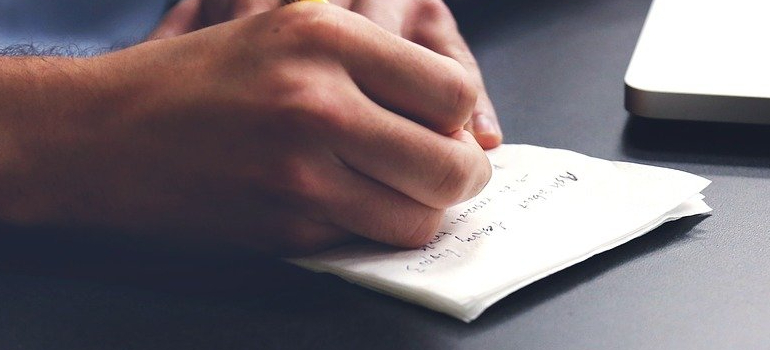 On the other hand, there is also a grown-up part of the conversation. Older family members must sit down and divide moving tasks. Create a moving plan that will contain your weekly tasks. Starting from the day you seal the deal with the best cross country moving companies Florida. A solid plan will keep you on track with responsibilities, tasks, and spare time. Include every family member who is willing to help. Consider their jobs and free time as well. There is no need to lean on friends and family once you hire a moving company.
Create a moving checklist
Once you have the plan formulated, it is time to organize its execution. For this, you are going to need two things. A moving checklist and a moving budget. Both of them are staples, and you will want to create them before you proceed. As far as the moving checklist goes, it is a bit different for residential and commercial moving. But for the most part, you will want to list all the tasks that you need to accomplish prior to moving. Try to write down every single task, no matter how big or small. Also, feel free to update the list as soon as you think of another task that needs doing.
Make several copies of the list, and provide one to each family member. Put the "master copy" on a clearly visible spot (e.g. fridge door). This will ensure that you always have the tasks in your mind, as you will subconsciously be aware of the list if you can gaze upon it several times a day. The list itself will serve many purposes, from improving morale to specifying exactly what is left to do before you can relocate.
Determine your moving budget
The other thing that you will need to figure out is your moving budget. You will want to have it set as soon as possible. That is before you start looking at moving services such as storage services, packing services, etc. It will allow you to save time on not even considering the services that you can't afford. Additionally, it will temper your decisions with reality. You simply can't spend more than what you have. Knowing what you have is the big thing here.
Declutter your home before moving from Florida to California
Decluttering is a huge part of every moving process especially with long-distance moving. You cannot afford to drag all of those things along with you. In the end, this is a fresh start and you should have space to make new memories. Decluttering can also lower the cost of moving significantly. The less you have to pack, the more you save on packing supplies. You can even get to the stage of renting a smaller truck to pack into. So be strict when throwing everything out. Once you start, have in mind items that cannot be moved. Hazardous and flammable items are not supposed to be relocated. So leave your fuels, cleaning supplies, and the rest with the neighbor.
Decluttering does not mean you need to throw everything away. Create three piles of clutter from your stash. This process should occur before the best cross country movers California arrives. One pile should go to trash directly and that would be items that are of no use to anyone. The second pile should be the one you want to donate to shelters in Florida. They accept all kinds of items and your contribution will matter. If you want to earn some money you should make a third pile for selling. Provided that you have time for a garage sale.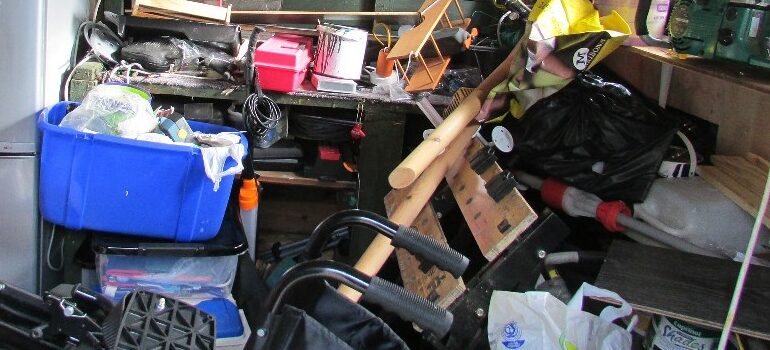 Boost your moving budget when moving from Florida to California – Organize a yard sale!
A great way to get additional funds for your relocation is to put all that clutter to use. You can organize a yard (or a garage) sale where you can sell off some of your unwanted belongings. People love these kinds of events, as they can get a bargain on most items. Of course, you will have to price your items generously for them to be attractive. However, consider the time and energy that you are investing, as well. If you price the items too low, the whole endeavor might not be worth your while! Therefore, this is something you need to consider first.
Write down all the items that you wish to sell, as well as their listing price, and see if you are comfortable with the amount of money that you might get. Do understand that there will be further negotiations involved and that the listed price will need to go down. A savvy seller lists the items a bit higher, knowing well that the customer is going to want to haggle. You may not be a professional merchant, but you might want to brush up on your haggling skills beforehand. They have the potential to earn quite a bit of money during these events. Or you can go for a "fixed" price approach. "Take it or leave it" if you will. This is a great way to not have to bother with haggling, but it does reduce overall sales potential.
Prepare yourself for the trip
Preparing yourself is more important than packing or decluttering. You need to make sure that you are relaxed and comfortable. Moving is a stressful period in our lives even if we are happy about it. So you need to make it as easier as you can. Why not find the best packing services for it. That way you can focus on other things.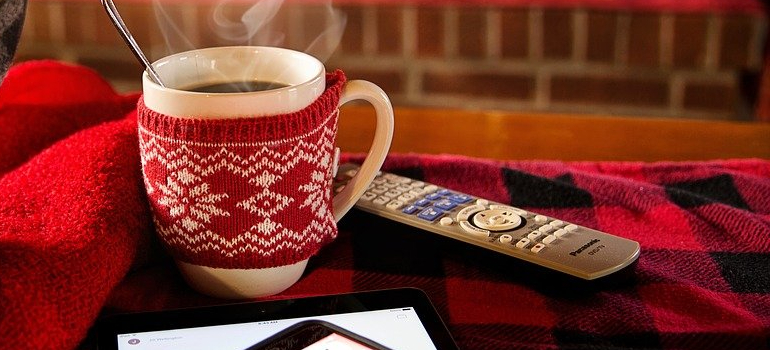 There is a lot to think about so make sure you have time for yourself. With a moving plan you created, you should be able to find some spare time to devote to the self-care. Do not forget about the gym, reading, and listening to music. Relocation with your family will be much easier if all of you are feeling great.
Here is what else you can do to make yourself feel great before moving:
Eat healthily and drink plenty of water by making healthy meals
Wear comfortable clothes
Go to bed on time after a long day
Learn more about your future place of residence
Go for a walk after calling it a day
These activities might seem impossible to achieve with a busy schedule. But trust us when we say they are beneficial. Doing what you love after a hard day will reset your mind and help you bond with your family. Never miss the opportunity to spare some time for yourself and your hobbies.
Once the reality kicks in about long-distance relocation ahead of you, you might start feeling nervous. This is an absolutely normal reaction for a change this big like moving from Florida to California. Keep in mind that this change is good and things will be back to normal pretty quickly. You just need to be a bit more organized and you will be able to manage everything. Also, you will have your movers by your side to ensure this process goes well. Together you are the key and will be able to relocate in a heartbeat!
Prepare an essentials box for each family member
You will also want to prepare a special box for each member of your family. The "essentials" box needs to include all the items that will both make your trip comfortable, and which will enable you to function normally for a day or two, even without the rest of your belongings. Items such as change of clothes, entertainment, toiletries, etc. all need to find their way into this box. Basically, everything that you can't imagine living without even for a day needs to be inside the box.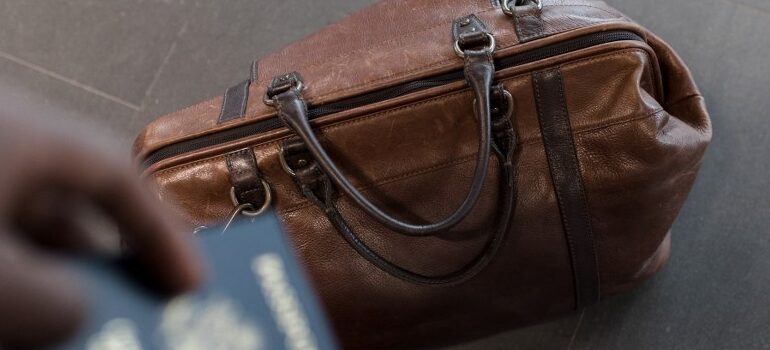 Say goodbye to your friends, family, and neighbors
Lastly, you will want to make sure that you say goodbye to everyone you care about when moving from Florida to California. You can do this any way you want, from individual goodbyes to a farewell party. The important thing is that both you and your friends and family get some closure. Who knows what the years might bring, but for now you will want to turn a new page in your life book.