ADA Compliance & Web Accessibility Statement
Everyone deserves the chance to access quality cross-country moving solutions
As a business that is oriented toward helping people across the US find reliable and licensed interstate moving companies, Best Cross Country Movers is always looking for ways to make our solutions more accessible to everyone. It is our belief that all online users deserve the same chances of finding cross-country moving companies that match their specific needs. And so, we are making headways toward converting our website into one that abides by ADA compliance and web accessibility norms.
We conform to the standard of Web Content Accessibility Guidelines (WCAG) 2.1 A/AA. And so, our team is committed to ensuring that everyone, including persons with disabilities, has full access to our digital offer.
Our team has made a lot of steps toward web accessibility
Our focus on meeting customers' growing website accessibility needs reflects our ongoing commitment to providing optimal digital experiences for all audiences. Here are the steps we took to ensure that:
Non-text content: Concise alt text for images on the website, names for clickable fields and buttons (e.g. Submit, input fields, etc.)
Information and relationships: Valid and proper HTML, clear labels or descriptions for all forms; content structured and divided with subheadings.
Meaningful sequence: Navigation menus separate from content, use of valid HTML, use of headings and bullet lists, arranged paragraphs in order, use of Breadcrumb navigation, and text format with left alignment.
Color usage: Avoiding color references in content (e.g. instructing users to click a green button).
No keyboard tap: Enabled navigation control with arrow or "Tab" key.
Page titles: Unique and descriptive titles for each page on your site.
Focus order: Elements such as pages on your navigation placed in an order that is logical.
Link purpose in content: Easy-to-understand anchor text that aligns with the surrounding text; Anchor text that describes the purpose of the link.
On focus: Required user action, like a mouse click to open a link, for responses to happen (removed auto-submit form fields.)
On input: Eliminated any instances that remove a user's control when interacting with an element.
Error identification: Providing users with explanations for errors and instructions on how to fix those errors. Placed error explanations near the error, like a required field.
Labels and/or instructions: Provided helpful instructions for completing input fields.
Contrast option: Using a light background and dark text or vice versa.
Resize text option: Enabled resizing of text – plugin option
Text images: Eliminated images that use images of text to convey content.
Finding pages: Added an HTML sitemap, logical navigation menu, navigation menu consistent across your site.
Compatibility
bestcrosscountrymovers.com is compatible with Chrome, Firefox, Safari, and other major browsers. Due to being outdated and rarely used, Internet Explorer and other older browser versions might not be fully compatible and users might experience functionality issues as a result of that.
Accessibility Coordinator
Best Cross Country Movers has appointed a Web Accessibility Coordinator to help meet the objectives in this policy.
Distribution
Best Cross Country Movers distributes this policy to all personnel who work with web content including writers, editors, designers, and developers.
Auditing and testing
Best Cross Country Movers has an in-house team of experts that perform annual audits as well as automated and user testing to assess and improve web accessibility.
Compliance
Through genuine effort and commitment including testing, evaluations, consulting, and remediation, we believe bestcrosscountrymovers.com adheres to best practices for compliance with the Americans with Disabilities Act (ADA).
Test out our ADA Compliance plugin yourself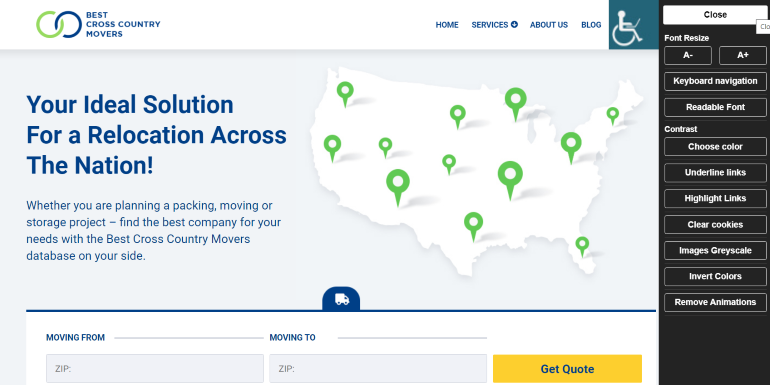 When visiting our website, people with disabilities have the option to adjust pages to their own needs – all with the help of the web accessibility plugin that we installed. Accessing the plugin is a simple matter of clicking on the icon in the upper right corner of the web page. The plugin offers a menu with a variety of options for contrast and font modifications.
Shortcuts for navigating the plugin more easily:
Alt+Z – open accessibility sidebar
Alt+X – close accessibility sidebar
Our company remains focused on doing more in terms of web accessibility
While Best Cross Country Movers strives to adhere to the accepted guidelines and standards for accessibility and usability, it is not always possible to do so in all areas of our online experience. That being said, there are accessibility elements that our team is still working on:
Alt text for images: Users might still come across images that lack proper alt text, but our team is currently working on resolving this.
Contrast: Certain website pages might be lacking terms of contrast, but we are looking into this matter. However, the plugin we installed offers site visitors the ability to modify contrast settings on each page.
Font size: There might be pages with smaller font sizes or different styles, which is also something that the plugin we installed can help fix.
Link visibility: Certain links might be difficult to spot, but can be identified with ease through the use of underline and highlight link options in the plugin.
Let us know if there's more that we can do
Best Cross Country Movers is a team that relies on its ability to communicate with others. We like to be involved and help others. Write to us about all accessibility-related inquiries or additional ADA compatibility suggestions that you might have at [email protected].
Additional Resources
For more information on web accessibility and legal requirements, here are helpful resources: