Moving is usually one of the most demanding tasks you'll ever conduct. Although it can be quite overwhelming, it can also be fun. Moving from NY to Texas is not a short distance to cross, but if you organize it well, your move will be smooth. Moreover, if you already started planning your move, but feel a bit stuck, Best Cross Country Movers are here to provide you with all the relevant information you may need. Nevertheless, let's help you carry out your moving plan as smoothly as possible.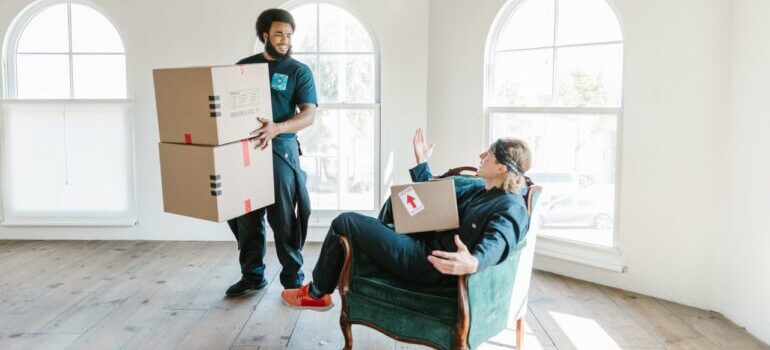 Easy relocation
When you think about moving, several things come to mind. First of all, if you want to relocate easily, you'll need a thorough plan. That plan should consist of all the necessary things you'll need to take care of before, during, and after the move. Therefore, this is what your moving from NY to Texas plan should contain:
Moving budget. This is the thing you should keep constantly in mind. You have to do things according to the budget, otherwise, you'll end up not being able to move properly. Even worse, you might end up in debt.
Get packing materials. One of the things to cross off your list is definitely a proper packing material. Therefore, go to the nearest store and get some cardboard boxes, wrapping paper, bubble wrap, etc. But don't forget the marker! Labeling is crucial to the job. Or, if you want, you can simply hire professional packing services and avoid this job completely.
Pack one room at a time. This is an important part of the organizing process. What you should do is pack a room at a time, thus be systematic.
Ask for help. Whether you decide to call a friend or a professional, you won't be wrong. As long as you don't pressure yourself into doing things by yourself, you're good.
Change your address. This is quite important when it comes to your driver's license, voter registration, and other things.
Say goodbye. Well, to make sure you really move away stress-free, organize a farewell party for your friends and family. Also, enjoy your favorite activity in your old city before you leave.
How to organize moving from NY to Texas with ease?
To start with, moving to another state is a big deal. However, it doesn't mean it has to be hard or tedious. When you organize well and get the right help, your move will definitely be one of your favorite experiences. Therefore, it's really important to prepare for certain things. This usually refers to hidden moving fees to look out for or transporting certain items you shouldn't, etc.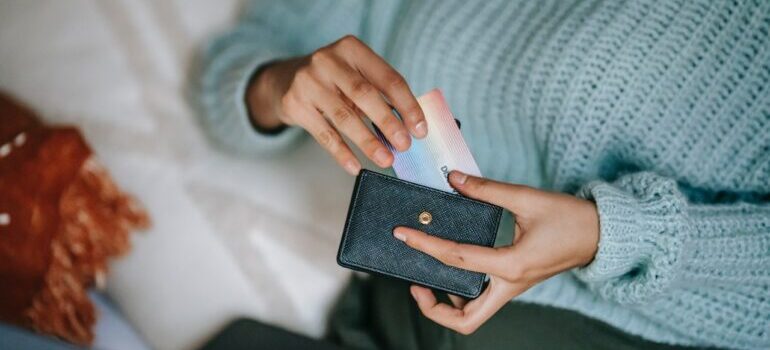 Generally speaking, moving is something that will affect your life, probably for the better. Moving off to a new place, new neighborhood, being able to meet new people. Everything is better when you have a chance to start over. Moving from NY to Texas is a big, yet important step. Two different states have plenty of different opportunities. However, if you think moving is hard, best cross country movers in NY will help you get the right help.
While you have to prepare properly for the relocation, you ought to keep in mind that it all starts with time management. If you calculate your time with your schedule, there is no need to worry.
Moving from NY to Texas 101
Whether you're moving from or to the famous Lone Star, best cross country movers in Texas will help you manage your relocation as long as you give us a call. There are many reasons why people choose to move from the Big Apple to the Lone Star State. One of these reasons lies in job opportunities. Texas' economy is growing, therefore, work potentials are diverse.
When you're preparing for your move, especially if it's long-distance, there are certain things to bear in mind. One of them refers to the moving costs. Therefore, make sure you remember to plan your budget according to your possibilities. Once you start your preparation process, keep in mind these things:
Hiring professionals – This is quite relevant. If you want to be certain your things will transport safely you need to find reliable residential movers.
Getting insurance – There is nothing that important as making sure you insured every aspect of your move. In case of an accident, you'll know you did everything that was up to you.
Calculate your moving costs – To know where you stand at all times, make a detailed plan of your relocation costs. To help you out, we offer you a free moving estimate.
Minimize – You're moving to a great distance. That's why you have to give away or get rid of some things that you won't need. Learn how to be a minimalist.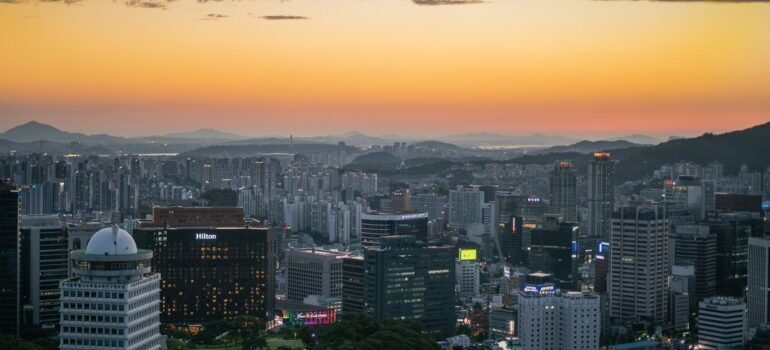 New York has a lot to offer, still, many people are moving from NY to Texas
New York is located in the northeastern part of the country and its bordering states are Pennsylvania, Rhode Island (water border), Vermont, Connecticut, Massachusetts, and New Jersey, and Canada, and Lake Ontario in the north. It is the 27th state when it comes to size, 4th most populous, and 7th most densely populated state in the country. Even though New York is the 4th most populous state in the country it is seeing an increase in outbound moves recently. Of course, the biggest reason is the high cost of living.
However, the recent coronavirus pandemic changed the way people look at life, and some other things, other than prestige, became more important. That is why we are seeing many people moving out of the state, particularly, NYC, in the search for better living conditions. And they are finding them, particularly in Texas, Florida, and California as they are the main targets for people that are moving out of New York. Still, even though there are many people who are leaving New York it still has a lot to offer. Let's, therefore, look at some interesting facts about this state.
History of New York
New York was inhabited almost 5,000 years ago (some researchers say even 10,000 B.C.) when native Americans came into the area. Later it was inhabited by well-known Mohawk, Cayuga, Oneida, and Seneca tribes. In more recent history, it is recorded that the Dutch formed a colony on Manhattan Island and named it New Amsterdam. After the British took control of the area, it was renamed New York. New York is one of the first original colonies that formed The United States of America.
It attained its statehood in 1788. And it became the 11th state that has joined the union. It got its name after the British Duke of York. When it comes to the nickname The Empire State, it is believed that it is because George Washington called this state the seat of the Empire.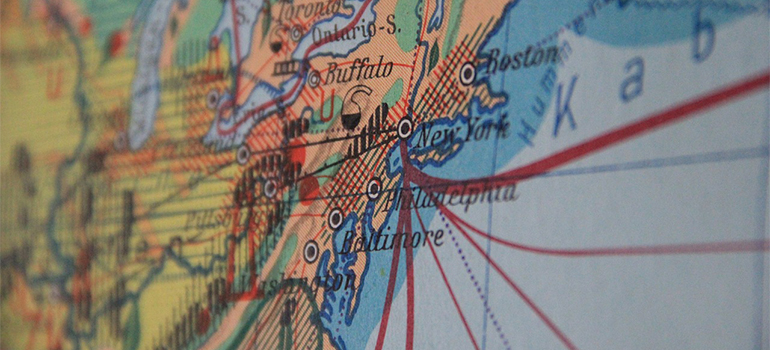 Facts about New York City
When it comes to particular cities in New York, of course, the most famous is New York City considered by many as the capital of the world. With a population of 8,419,316, it is the most populous city in the United States and one of the most populous places in the whole world. Of course, it is one of the best places to live in the state of New York. It offers its residents numerous opportunities when it comes to employment, entertainment, education, and overall living conditions. Still, the median home value of $606,000 and a median rent of $1,443 make many people struggle here even with the average median household income of $63,998.
That is, of course, just one of the reasons why so many people are moving from New York to Texas. If you are in the same situation and considering leaving The Big Apple, our website holds the selection of the best cross country movers New York City can offer. They are all inspected by our team of experts. So, you can choose only among proven and verified professionals.
Facts about Buffalo
The second-largest city in NY is Buffalo. It is located in the western part of the state on Lake Erie near Niagara Falls. It has a population of 256,480. The median home value in Buffalo is pretty low. Only around $89,800. Median rent is also very affordable, especially comparing to New York City, at $776. Of course, cheap properties are followed by low average household income. Only around $37,354, which is half of the national average. Still, in recent years, Buffalo is showing signs of progress. Increased development and lively job market are drawing more and more young professionals in the city.
However, that doesn't seem to cut it just yet as many people are still leaving the state regardless of new opportunities. If you are planning to move from this city our website is the best place to start looking for moving companies. Just give us a few details regarding your move. Tell us your location, destination, and date and we will give you a free moving estimate and a list of the best cross country movers Buffalo residents use for moving from NY to Texas.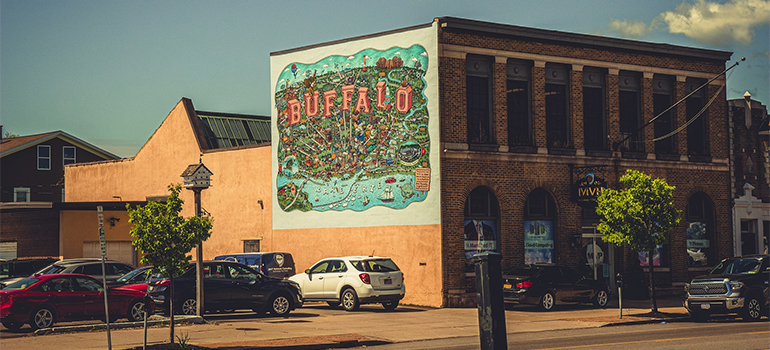 Facts about Rochester
The third most populous city in New York is Rochester. And it is also seeing negative population growth in recent years despite being one of America's first boomtowns in the past. Yet it remains as one of the best places for young families and students who like its cheap properties, low cost of living, highly rated schools, and safety. Of course, Rochester has much more to offer than what we just stated. And if you talk to Rochester residents, they will tell you that there are many more pros than cons to living in Rochester.
Unfortunately, Rochester is now in a situation where it is losing around 1 percent of its population per year. If you want to be among those who are leaving Rochester, we are here to help you. We have a selection of the best cross country movers Rochester can provide. All you have to do is get their quotes, compare their services and prices, and pick the one that suits your needs. Reliability is already inspected by our team of moving industry experts. So you will have no trouble whatsoever.
If you relocate to Texas you will have much more available space
So you decided to leave New York and to Texas. Are you ready for the change? Things will not be the same, you can count on that. First of all, Texas is 6 times larger than New York. Still, despite having around 5.8 million people more, The Lone Star State is not so densely populated. So you will have, at least seemingly, much more space for yourself. Of course, if you move to one of the biggest cities in Texas, you will not have that feeling. As they are the same as any other large cities in the US. Let's take look at some interesting facts about Texas.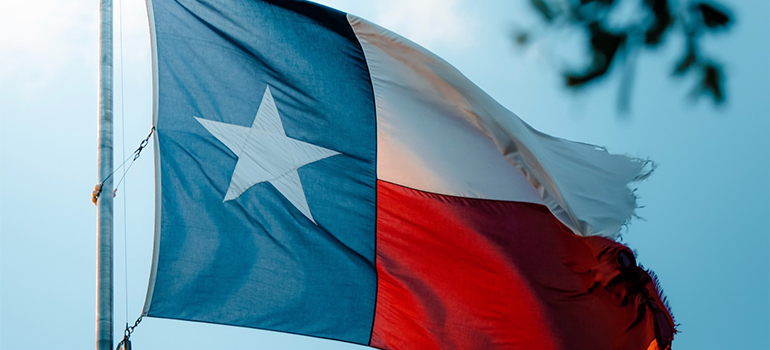 History of Texas
Texas attained its statehood in 1845 as the 28th state. It is the 2nd most populous and 2nd largest state in the country. It has 254 counties and it is located in the South Central part of the United States, bordered by New Mexico, Oklahoma, Arkansas, and Louisiana. In the beginning, Native American Tribes were living in this area. After, the Europeans formed their first settlements here. While Texas was still a republic, its first president was Sam Houston. Now, its statue is the largest statue in the Country with 67 feet in height erected in 1994. Statue's official name is A tribute to Courage but locals simply call it Big Sam.
Facts about the state of Texas
One of the biggest attractions in The Lone Star State is certainly Texas State Fair. It is the largest fair in the country and every year more than 3 million people visit it. Texas is also known for the famous assassination of John F. Kennedy who was killed in Dallas on 22 November 1963. His assassin, Lee Harvey Oswald was arrested in Texas Theatre in the same city and became one of the important figures in history despite being a notorious assassin. Of course, Texas has not known only because of Kennedy's assassination.
Even though people here are well known for their love for firearms they are much more known for their love for sports. Only California has a larger number of sports teams than Texas. Some of the most famous are Texas Rangers, Dallas Mavericks, Houston Rockets, Dallas Stars, San Antonio Spurs, and we are only scratching the surface. If you like to drive fast, you will enjoy Texas as well. The highest national speed limit is located on a stretch between Austin and San Antonio where it is allowed to drive up to 85 miles per hour.
Facts about Houston
Texas has a large number of big cities. The biggest city, however, is Houston. It has a population of 2,359,480 and it is one of the most affordable big cities in the United States. Compare this to some of the highest cost of living in NYC and you will get an idea of why so many people are moving from New York to Texas and why Houston is one of the fastest-growing cities in the country with thousands of people moving here every year.
If you are thinking about moving to Houston, we are here to help. We offer some of the best cross country movers Houston can provide. And they are all at your disposal right now. All you need to do is get their quotes and compare their services and see which company is available for your specific date.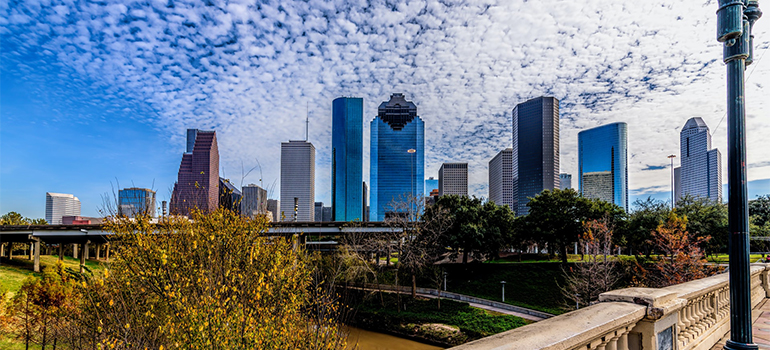 Facts about San Antonio
The second-largest city in Texas is San Antonio is also among the most affordable cities. It is located in Bexar County and, with a population of 1,508,083, it is considered one of the best places to live in Texas. Talking about affordability, the median home value in San Antonio is more than $60,000 lower than the national average. Only $146,400. Of course, the rent is also much lower than the national average and compared to NY. Around $992. Naturally, San Antonio offers a lot to its residents concerning safety, education, and employment. Also, the city has a lot of parks, restaurants, bars, theatres, and museums.
If you like what you hear, maybe you would like to consider San Antonio as your next destination. Still, organizing a move from NY to San Antonio is not an easy task. It is a 1,766.1 mi trip and you need to have experienced professionals govern your move if you want to make it through without stressing yourself too much. Unfortunately, good movers are not easy to find. Still, if you use our website, you can find some of the best cross country movers San Antonio can offer. Contact them through our platform, and get high-quality relocation services at affordable prices.
Facts about Dallas
The third-largest and most famous city in Texas is Dallas. It is located in Dallas County and has a population of 1,330,612. It is one of the best cities for young professionals in the US. Still, Dallas is not among the cheapest places in Texas but it is still pretty affordable compared to New York and especially NYC. The median home value in Dallas is $188,100 which is still much lower than the national average. And the median rent is $1,052, which is right around the national average. Dallas offers a lot of opportunities when it comes to employment, education, culture, and entertainment. And even though it is considered one of the more expensive cities in the state, its resident will tell you that it is well worth it.
It is home to many young families and professionals who take advantage of its opportunities and safety.  That is why Dallas is currently one of the fastest-growing metropolitan areas in the United States as its population doubled in the last 30 years.  If you are planning on relocating from NY to TX and you are aiming for Dallas, you will have a lot of trouble finding the right movers. Luckily we can help you. We have gathered some of the best cross country movers Dallas has in its registry. And you can contact them through our webpage to get their quotes and see their services. Compare them and pick the best one.
Life after moving from NY to Texas
What's so good about Texas is it has so many positive things to offer. Since you were moving from NY to Texas, you already had a lot of things on your mind. However, Texas' affordable living costs, delicious food, and booming economy, will make you forget you ever moved from another state. Moreover, New York's winters could be quite harsh, therefore moving to Texas will definitely boost your mood. In other words, this is why moving to Texas is the best choice you could make:
Warm weather
Low income tax
Economy boost
Plenty of job opportunities
Great education system
Various interesting family activities to take on
Ready to settle down
Finally, you moved to your new home. Even though moving from NY to Texas is a great distance to cross, it's worth it in the end. If you happen to make a cross-benefit analysis on your move, you'll notice it has more benefits than costs. Texas is a huge state with so much to offer. There is something for anyone who decides to move there. Whether you're moving with or planning to start a family in Texas, you won't be wrong. Lone Star State is famous for its excellent education system, leading economy, and work chances. In the end, you'll see how much moving to Texas will benefit you overall. Anyway, be sure to contact us before the move so we can help you with finding the right movers.